I am an artisan making fine lost wax cast jewelry in precious metals and gemstones. I also do marquetry, making jewelry that combines old world craftsmanship with modern materials and processes to produce a unique look. Each piece is carefully handmade with care and attention to detail to produce a piece that you will enjoy for years to come.
The time I can most clearly point to setting me on the path to being a jeweler goes back to building our house when I was sixteen. We were putting an eating peninsula in our kitchen and came up with the idea to use woods to make it interesting. Oak and cherry make a nice combination, and it fell on me to turn the legs and execute the cutting in 1/4″ plywood that we glued onto the Fibonacci spiral base. Over a decade and a half later this counter is still well enjoyed and remarked on by guests.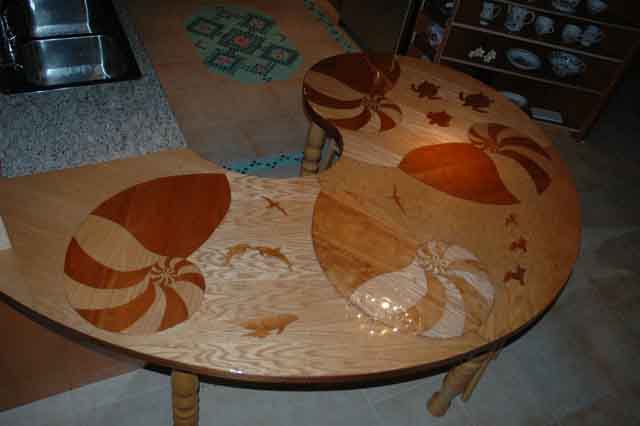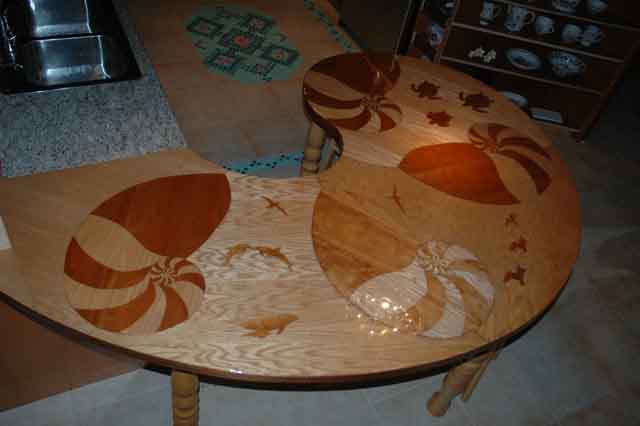 With the success of the counter I thought to continue. Some research online led me to marquetry, and I soon had some paper-backed veneers and the entire four book collection on marquetry held by the state library system on its way to me. From here I set to work, starting with a couple sample designs from the books and soon continuing on to patterns from my own photographs.
From here I continued through wall plaques and boxes, selling the latter through Martin & MacArthur until I found myself unable to source adequate supplies of curly koa in sufficient quantity to make boxes worthy of my marquetry. With the collapse of my box sales I had to think another way, and went miniature, to the marquetry pendants you see here on my site. Martin & MacArthur weren't interested in the pendants, so I moved to selling through local boutiques.
Although I could purchase settings for some of my pendants, not all of the sizes I needed were available, so I learned to solder silver to assemble my own settings. About a year later, when the jeweler she worked with had to close up shop and move away, the owner of one of the boutiques came to me and asked if I would consider learning casting to take over the work he'd been doing for her. Another set of books and process of learning brings me to the work you see here today.